January 10, 2022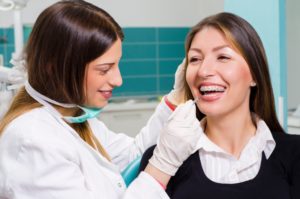 Metal braces are only for teenagers, right? Wrong! While you may envision a 15-year-old with a mouth full of brackets and wires, they're not the only patients who can benefit from this form of traditional treatment. Braces as an adult have many unique advantages that you may not realize. Although clear aligners might seem like an ideal path, your dentist may view your case as more serious, requiring extensive care. If you're considering regular metal braces to straighten your teeth, keep these four things in mind when talking with your dentist.
You Have Options
If the idea of glaring metal doesn't sound like something you want to endure, you're welcome to talk to your dentist about ways to make your orthodontic treatment less noticeable. Clear braces may be an option with tooth-colored wires and brackets. This will allow you to move forward with treatment knowing your teeth will be more perfectly aligned but avoid the inconvenience and embarrassment that often come with traditional metal.
Braces Are Not Meant to Last Forever
In the beginning, you may look at your treatment timetable as something that will take forever to complete, but the reality is that it will eventually end. When it does, you'll see a straighter, more beautiful smile.
While it is true that permanent teeth can take a bit more time to move because of their permanence, the average timeline is from 12-26 months depending on the severity of your case. Also, it may be possible to inquire about ways to accelerate your treatment with Propel and Acceledent, both of which are FDA-approved and can help move tooth roots much quicker.
It's a More Affordable Option
Those who wear braces when they're younger tend to have someone else paying for their treatment or are doing everything they can to make ends meet while taking care of their smile. As an adult, there is a good chance that because you are now more established in your career, you may have the money to explore orthodontic treatment more readily.
Not to mention, it's unlikely you'll be required to pay the full amount out of pocket. With dental insurance and financing options available, it is a much more affordable solution nowadays.
You'll Exude Greater Confidence
By choosing to straighten your teeth with traditional braces, you'll embrace greater confidence than before. Whether you're meeting with family, friends, colleagues, or someone special, you'll feel unashamed to join others while feeling comfortable with your smile.
If you want to embrace greater opportunities, invest in a solution that will improve your oral health and aesthetics. With regular braces, you can finally achieve the smile of your dreams.
About the Author
Dr. Cedric C. Chenet earned his Doctor of Dental Surgery degree from Howard University. Dr. Chenet retired from the U.S. Air Force as a lieutenant colonel in 2002. During his time in the service, he received extensive post-graduate training in general dentistry, periodontics, endodontics, prosthodontics, and pediatric dentistry. Using the latest technology in his practice, he and his team strive to provide the highest quality care.
Looking for a solution to fix a crooked smile? Dr. Chenet can help with Invisalign! Contact us via our website or by calling (321) 255-0199 to learn more about how we can help you.
Comments Off

on 4 Things to Remember When Choosing Adult Braces
No Comments
No comments yet.
RSS feed for comments on this post.
Sorry, the comment form is closed at this time.