Dental Implants — Melbourne, FL
Beautifully Rebuild Your Smile for Life
Are you searching for something to reliably take the place of your missing tooth? Or teeth? Dr. Cedric Chenet and Dr. Derek Chenet can help! With dental implants in Melbourne, we can beautifully rebuild your smile for life with restorations that are practically indistinguishable from natural teeth. For patients who would like to receive a permanent substitute for one or more missing teeth, one that has the most lifelike and longest lasting results available, we may recommend that you take advantage of our affordable dental implants. Give us a call to learn more and schedule your consultation.
Why Choose Dental Excellence Melbourne For Dental Implants?
Dr. Derek Chenet Can Place Your Dental Implants Right Here In-Office
Advanced Dental Implant Procedures Like Bone Grafting Available
Flexible Financing & In-House Savings Plan to Make Dental Implants Affordable
What Are Dental Implants?
Dental implants are small metal posts that are designed to replace the roots of a missing tooth. The material that dental implants are made of is the key to their success. They're created from materials like titanium or zirconia, which are biocompatible. This means that once they've been surgically inserted into the jawbone where the roots of a missing tooth once were, they fuse and integrate with the surrounding bone tissue. This provides a strong, lifelike foundation for your replacement teeth. Plus, dental implants stimulate blood flow in the jawbone, which prevents the sunken, aged appearance that typically comes with tooth loss. Unlike other tooth replacement options, dental implants replace the entire structure of a missing tooth, which means you'll get to enjoy a smile that looks, feels, and functions just like natural.
The 4-Step Dental Implant Process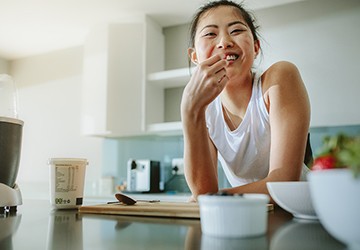 The process of getting dental implants in Melbourne takes place over the course of several months and multiple visits with our team, but patients will agree that it's well worth the phenomenal results! To gain a little more insight into how dental implants work in Melbourne, you can read below or contact our team to schedule a consultation today!
The Initial Consultation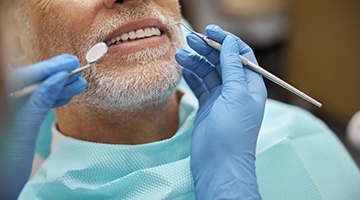 During your initial consultation, our team, including your implant dentist in Melbourne, our doctors will take some time to speak with you about any smile goals you have, ask you about your medical and oral health history, and conduct a thorough examination of your mouth. All of this information will help us determine whether you're a good candidate for the procedure and allow us to draw-up a detailed treatment plan to walk you through so you know exactly what to expect.
Dental Implant Osseointegration & Abutment Placement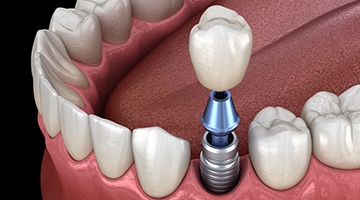 After your dental implants have been placed, they'll undergo an important process called osseointegration, where they chemically fuse with the jawbone. This provides the structure with continued stimulation and blood flow to keep it from eroding over time and offers your restoration a strong and stable foundation to be attached to. After between three and six months, we'll call you back in to place the abutments on top of your implants. These are small metal connector pieces that will hold your restoration in place.
Securing Your Final Restoration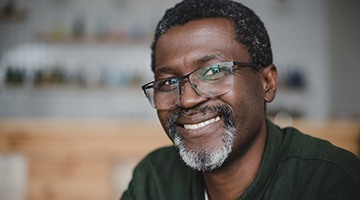 We make sure that each of our restorations not only look lifelike, but also feel completely natural in the mouth. Before securing your final restoration to the implants, we'll make sure that it matches the shade of any of your existing teeth and fulfills our high standards. Then, we'll attach it to the abutments to complete your smile!
The Benefits of Dental Implants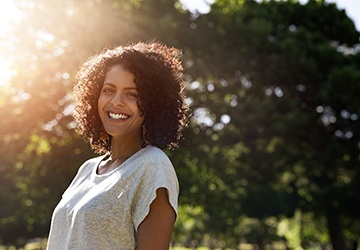 Unlike other tooth replacement solutions, dental implants in Melbourne restore the entire structure of missing teeth from the roots upward. This distinguishes them from all other traditional tooth replacement treatments by allowing them to offer a wide array of unique day-to-day and oral and overall health benefits. There's a reason why dental implants in Melbourne are so highly recommended by dentists and patients alike, and it's because they have so much to offer!
Day-to-Day Benefits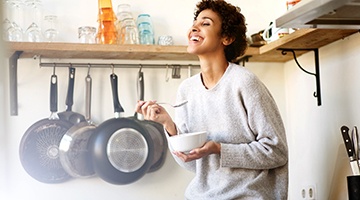 Enhanced Speech. Speaking can be hard, not just with traditional dentures that can slip and shift in your mouth, but also with gaps in your smile. Implant-retained restorations won't move in your mouth because they're anchored to your jawbone.
Simple Maintenance. Once your treatment is completed, you'll be able to take care of your new smile as you would your natural teeth, by brushing twice each day, flossing, rinsing, and visiting the dentist once every six months for a checkup and cleaning.
Boosted Confidence. Dental implants look and feel completely natural, allowing you to go through your everyday life with newfound confidence in full smile.
Health Benefits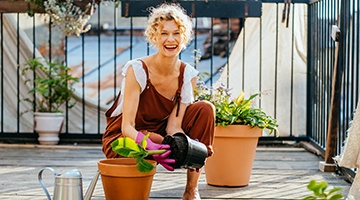 Jawbone Preservation. Because your dental implants are able to fuse with the jawbone, they provide it with stimulation and blood flow that keeps it from eroding over time. This also helps maintain your facial structure.
Maintain Good Oral Health. By filling gaps in your smile, you'll be eliminating nooks and crannies in your mouth that can easily house plaque and tartar. This will make brushing and flossing more effective and easier.
Eat a Well-Balanced Diet. With a complete and stable set of teeth, you'll be able to easily eat all of your favorite foods, including meats and crusty breads. This will help you maintain a nutritious diet that's important for your physical wellbeing.
Long-Term Benefits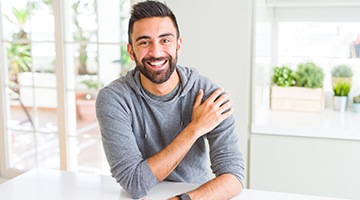 High Success Rate. Dental implants boast in impressive 95% success rate, even after 10 years of placement. This means that you'll be spending less time with your implant dentist in Melbourne and more time enjoying your beautiful and functional grin over the years.
Cost-Effective Treatment. Since you won't have to replace your restoration as frequently like you would need to with a traditional prosthetic, dental implants are the most cost-effective treatment in the long-run.
Long Lifespan. With proper routine maintenance, your dental implants can last for over 30 years!
Who Dental Implants Can Help
Some people who have lost just one or a few teeth reason that they don't need to fill in those spaces — but that is a mistake. Even minor tooth loss can lead to serious consequences for your oral health, which is why we always recommend that our patients carefully consider their tooth replacement options no matter how many teeth they're missing.
One of the best aspects of dental implants is the fact that they can be used in a wide variety of circumstances. Whether you need to replace a single tooth or an entire arch, we can create a custom dental implant treatment plan to help you regain a complete, confident smile.
Missing 1 Tooth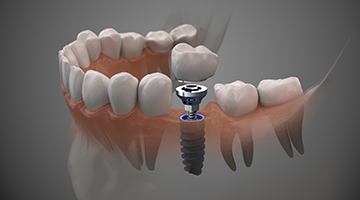 A traditional bridge to replace a single missing tooth goes on top of the neighboring teeth, which wears them down and weakens them. Instead, we can replace a single missing tooth with one dental implant post, an abutment, and a custom-made crown. This not only eliminates the need to alter remaining teeth, but it supports them and encourages better oral health.
Missing Multiple Teeth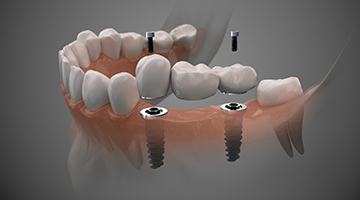 Patients who are missing several teeth but still have some natural teeth remaining can benefit from an implant bridge. An implant bridge fills in the gap left by two or more consecutive missing teeth. A small bridge can sometimes be supported by a single well-placed dental implant, but in most cases, we'll place one dental implant on either side of the gap in your smile and support the bridge between them.
Missing All Teeth
Dentures replace an entire arch of missing teeth, but many patients struggle to find a proper fit that is both comfortable and reliable. Traditional prosthetics can slip or slide around at the most inconvenient of times, plus, they can become quite uncomfortable over time. Patients who are eligible for dental implants can now rejoice — implants can provide far superior stability for a complete or partial denture. What's more, because they stabilize the jawbone and promote better oral health, implant dentures can also help you maintain your youthful facial structure for longer.
Learn More About Implant Dentures
Alternatively, patients looking to replace an entire arch of teeth may be interested in All-On-4 dental implants. The All-On-4 method secures a complete denture using as few as four dental implants. Thanks to the strategic placement of each individual implant, All-On-4 dental implants provide optimal stability with minimal surgery, which makes it an excellent choice for patients who don't have enough jawbone density to support traditional implants. This treatment can actually be completed in a single day, which is why All-on-4 is often referred to as Teeth-In-A-Day.
Learn More About All-On-4 Dental Implants
Missing Teeth with Low Jawbone Density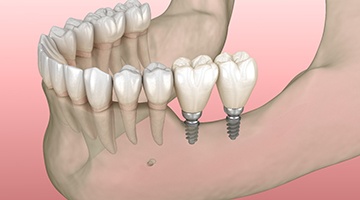 When dental implants must be placed in areas where there is insufficient bone structure or if there is a tight squeeze in the jawbone, mini dental implants can provide wonderful stability for a tooth replacement. Just like the name implies, mini dental implants are very similar to the traditional type — just smaller. Because their placement is simpler, they are also a good option for patients who may not have been eligible for dental implants in the past.
Understanding the Cost of Dental Implants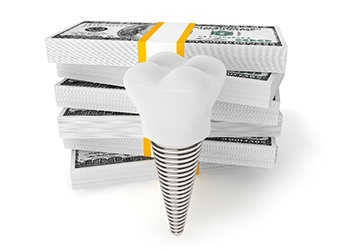 Because each patient's smile is different, it's difficult to provide you with a precise estimate before examining your mouth and the number of teeth you're missing. The total cost of your procedure will depend on how many implants you're receiving, whether you need preliminary work before your placement surgery, and a number of other factors. Implant-retained restorations do tend to cost more than their traditional counterparts, but their longevity and beauty make them an excellent value and a worthwhile investment in your confidence and oral health.
Factors Influencing the Cost of Dental Implants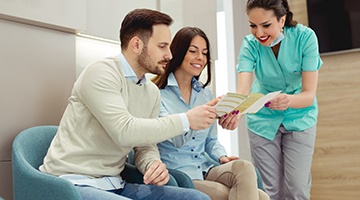 No two smiles are the same, and dental implant procedures may vary widely from one patient to the next. The only way to find out the exact cost of yours is to schedule an appointment for a dental implant consultation. When you do, Dr. Chenet will consider several factors to give you an estimate for what you can expect to pay.
Some of the variables that may affect the cost of your dental implants include:
How many teeth you are missing
Where in the jaw the dental implants will be placed
What your dental implants are made of
Whether or not you need to have a bone graft or sinus lift before the dental implants are placed
Does My Dental Insurance Cover Dental Implants?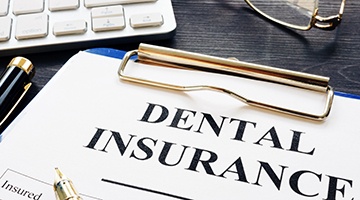 Once we have a precise price tag for the cost of your dental implants, we can discuss ways to make them more affordable. Unfortunately, most dental insurance plans do not provide coverage for dental implants -- despite the fact that they are well-known to be the best method of tooth replacement available. This is because insurance plans often have a clause that requires you to choose the least expensive alternative treatment (LEAT), which excludes dental implants. This is why we always encourage patients to make decisions based on what is in the best interest of their oral health, rather than being guided solely by what dental insurance covers. Remember, cheaper is not always better when it comes to caring for your smile!
Making Dental Implants Affordable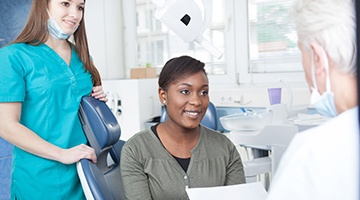 If you are concerned about the cost of dental implants, there are options for making them more affordable. CareCredit is a third-party financing option that can help you break up the cost into smaller, more convenient payments. It works like a credit card -- simply swipe it at the time of your treatment and pay your bill off at the pace that works best for you.
In addition to CareCredit, we also accept cash, personal checks, and all major credit cards. Feel free to use the method of payment that works best for you. We want to help make dental implants as affordable as possible -- for you and your lasting oral health!
Maintaining & Caring for Your Dental Implants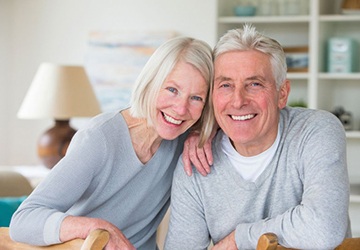 While regular dentures and bridges have a predicted expiration date when placed, dental implants are designed to be a permanent tooth replacement. Even after decades, they still have a success rate of at least 95%. However, their longevity depends mainly on how well you care for them. To ensure that your new pearly whites stand the test of time, make sure to follow these five basic tips for dental implant care in Melbourne, FL.
Make Oral Hygiene a Priority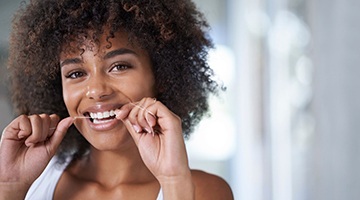 Dental implants can't get cavities, but any natural teeth that you still have certainly can. Additionally, your implants are vulnerable to gum disease, which is often caused by the buildup of plaque that occurs from poor oral hygiene. For these reasons, you'll need to brush and floss all of your teeth (real and implant-supported) every day. Your implant dentist in Melbourne also recommends rinsing with an antibacterial mouthwash for good measure.
Eat a Healthy Diet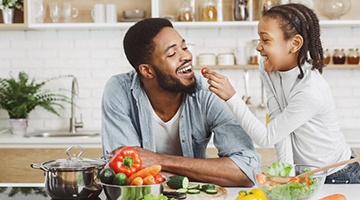 Indulging in the occasional sweet treat shouldn't be a huge issue, but eating too much sugar and starch can lead to oral health problems that put your implants at risk. Be sure to add plenty of fruits, vegetables, dairy products, and lean proteins to your diet – these items should keep your gums, teeth, and jawbone in great shape. Foods that are rich in calcium and vitamin C are particularly effective at giving your implants a healthy foundation.
Break Bad Habits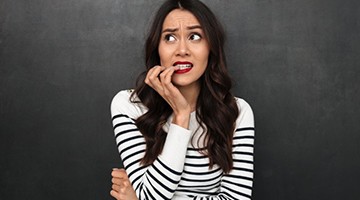 Do you tend to bite your fingernails or chew on pen caps when you're nervous? Have you been smoking (or chewing or vaping) tobacco products for quite some time? These habits are all very hard on the teeth and may have even been partially responsible for your tooth loss in the first place. To keep your dental implants in Melbourne safe, you'll need to kick harmful habits like these. Whenever you feel the urge to bite or chew something you shouldn't, try popping a piece of sugarless gum in your mouth instead. If you need help quitting smoking, please reach out to us, as our team may be able to point you toward the resources you need.
Protect Your Dental Implants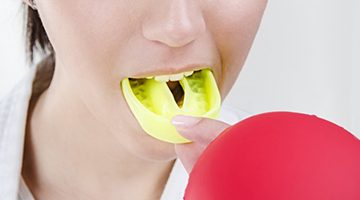 Many people unknowingly grind their teeth when they're stressed. This often happens while you're asleep, making it impossible to notice and stop. If this is the case with you, we highly suggest wearing a custom nightguard to bed. It creates protective padding between your upper and lower arches, preventing wear and tear on your teeth and implants as a result of grinding.
We also recommend wearing a professionally made mouthguard when you play sports. After all, the last thing you want is for your implant to be dislodged or damaged due to an unexpected blow to the face or jaw.
Schedule Regular Dental Checkups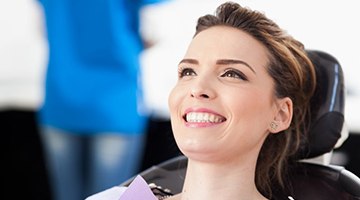 No matter how many implants or natural teeth you have, you still need to visit us every six months for a routine checkup and cleaning. Our dentists have been trained to detect the smallest signs of problems with implants – so small you may not have noticed them yourself. If they catch anything, our team can fix the issue before it worsens and becomes more expensive, invasive, and time-consuming to treat.
Dental Implant FAQs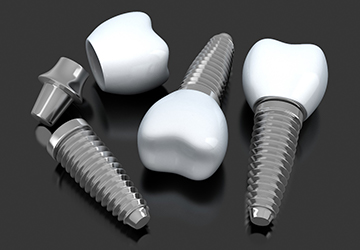 Dental implants are the longest lasting tooth replacement available, making them the premier choice for our patients. However, if you're like most, you probably have questions about implants and the process of receiving them. That's why Dr. Chenet has included the answers to some of the most frequently asked questions about dental implants in Melbourne. Keep reading to get the information you need and satisfy your curiosity before committing to this treatment.
How Long Do Dental Implants Last?
With proper care, dental implants can last for a lifetime. It's important that you practice daily brushing and flossing as well as visit our office routinely for checkups. By maintaining a good oral health routine, patients can get the most out of their dental implants.
Does It Hurt to Get Dental Implants?
Because dental implants require surgery, many patients are fearful that the procedure is painful. However, Dr. Chenet ensures that all his patients are numb and comfortable before beginning. He also offers sedation dentistry for patients who want to feel a greater sense of relaxation. While there is some slight soreness after the surgery, implant patients relate the surgery to a simple tooth extraction!