Dental Implants in Melbourne
Are you searching for something to reliably take the place of your missing tooth? Or teeth? Dr. Cedric Chenet, Dr. Derek Chenet, and Dr. Veronica Yu can help! For patients who would like to receive a permanent substitute for one or more missing teeth, one that has the most lifelike and longest lasting results available, we may recommend that you take advantage of our affordable dental implants.
Dental Implant Placement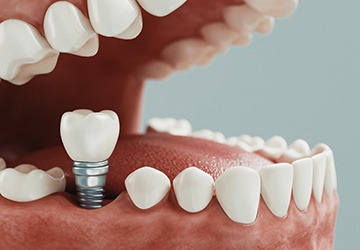 First, dental implants are surgically placed beneath the gum line according to your treatment plan. Each implant post takes the place of a missing tooth's root. Dental implant placement is performed under local anesthesia. Once the procedure is complete, stitches close the area and healing begins. The recovery period between placement and final restoration (when the crown, bridge, or denture is affixed on top) usually occurs over the course of four to eight months.
Implant-Retained Crowns & Bridges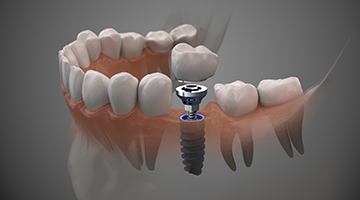 Patients who are missing one or several teeth but still have some natural teeth remaining can benefit from an implant-retained crown or bridge. A single crown takes the place of one missing tooth, while an implant-retained bridge fills in the gap left by two or more teeth. A crown is fixed, but a bridge can be fixed or removable. Both provide wonderful stability and prevent the surrounding natural teeth from drifting out of place.
Implant-Retained Dentures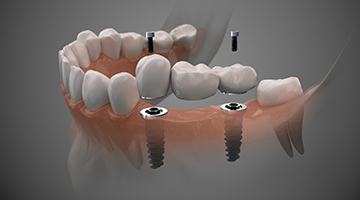 Dentures replace an entire arch of missing teeth, but many patients struggle to find a proper fit that is both comfortable and reliable. Traditional prosthetics can slip or slide around at the most inconvenient of times. Patients who are eligible for dental implants can now rejoice — implants can provide far superior stability for a complete or partial denture. What's more, because they stabilize the jaw bone and promote better oral health, implant-retained dentures can also help you maintain your youthful facial structure for longer.
Mini Dental Implants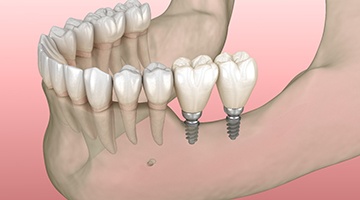 When dental implants must be placed in areas where there is insufficient bone structure or if there is a tight squeeze in the jawbone, mini dental implants can provide wonderful stability for a tooth replacement. Just like the name implies, mini dental implants are very similar to the traditional type — just smaller. Because their placement is simpler, they are also a good option for patients who may not have been eligible for dental implants in the past.
All-on-4 Dentures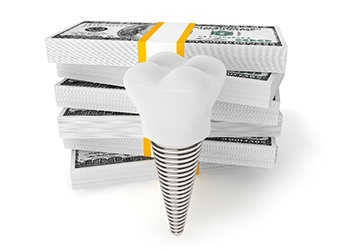 All-on-4 is a method of securing a complete denture using as few as four dental implants. Thanks to the strategic placement of each individual implant, which helps to draw the maximum support from the jaw bone, All-on-4 provides significant security for a complete denture in the upper or lower jaw. This treatment can actually be completed in a single day, which is why All-on-4 is often referred to as Teeth-In-A-Day.
Cost of Dental Implants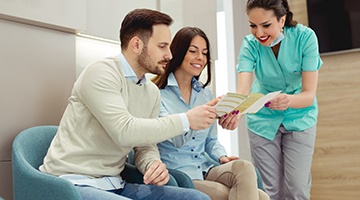 When you are planning for dental implants, the cost of the procedure is a big factor to consider -- and the final price tag will depend on a few things in particular. During a consultation, Dr. Chenet will consider how many teeth you are missing, where along the jaw they are located, and other factors to give you an estimate for what you can expect to pay. Once we have a number in mind, we can discuss ways to make your dental implant procedure fit squarely within your budget.