Partials and Dentures - Melbourne, FL
Complete Your Smile with Dentures Today!
Living with missing teeth is no laughing matter. Whether you are missing a single tooth, multiple teeth, or an entire arch, your quality of life and confidence suffer. Now, you can no longer enjoy your favorite foods or speak as clearly as you did in the past. You do not need to let an incomplete smile create daily challenges. Dr. Cedric C. Chenet can fill the spaces with partials or dentures in Melbourne. He will rebuild your smile to restore your oral functions and your self-esteem.
What are Dentures?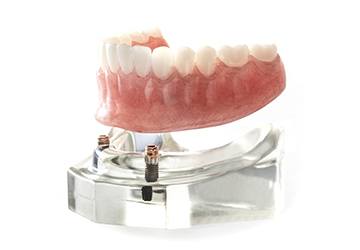 Dentures are a convenient solution to treat tooth loss. Prosthetic teeth are designed to meet your exact needs, which are attached to a gum-colored base with a metal framework. It is then held in place using one or more methods, such as suction or dental implants.
What are My Options?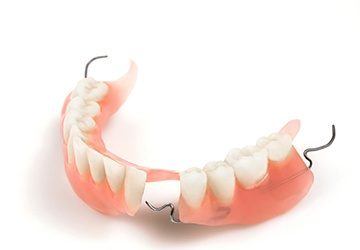 Depending on your degree of tooth loss and your preferences, there are 3 main options used to replace your missing teeth:
Full Denture: A full denture is used when you have lost all your teeth on the top or bottom arch. Although they have a bad reputation for looking fake, new advancements in dentistry have improved their function and appearance. Ceramic or acrylic is used to create the teeth while the base is held to your gum tissue using suction or an adhesive.
Partial Dentures: If you are missing several teeth in a row, a partial denture is used to fill in the gaps. Prosthetic teeth are attached to a gum-colored base, which has a metal framework to clasp onto your remaining teeth to hold it in place.
Implant-Supported Dentures: As an alternative to a conventional full or partial denture, many people are coming to prefer those that are supported by dental implants. Implant posts are inserted into your jawbone to create a secure foundation for your denture or partial.
Benefits of Dentures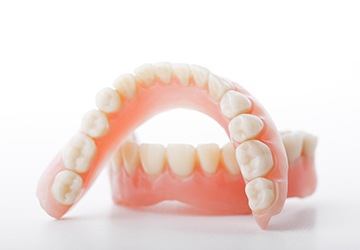 Dentures significantly improve your quality of life due to the various benefits they offer, including:
Each denture is carefully crafted to look natural to give you a beautiful smile.
Restores your ability to eat a balanced diet to maintain your overall health.
Enjoy added confidence knowing your denture closely functions like your natural teeth, so you can chew, speak, and smile with ease.
Many dental insurance policies now cover a portion of the cost of dentures to keep your new smile affordable.
Candidates for Dentures
In most cases, everyone who has missing teeth is a candidate for dentures; however, you will require a consultation with your dentist in Melbourne to determine which type best meet your needs.
Full Denture: You must have lost all or most of your natural teeth. Your gums must be healthy to support the dentures.
Implant-Supported Denture: Your jawbone must be able to support the implant posts, you cannot have gum disease, and you should have good oral and general health.
Partial Denture: You should still have a few healthy teeth to support the partial.
Adjusting to Dentures
It will take a few days to get used to your new smile. During this time, it is best to wear your denture as often as you can to practice chewing and speaking. It is recommended you stick with softer foods until you become accustomed to your new smile. If you develop any difficulties or have any concerns, do not hesitate to contact our dental office.
Stop living with the challenges of missing teeth. Contact our dental office today to see which type of denture is right for you.