Emergency Dentist – Melbourne, FL
Easing Pain & Restoring Smiles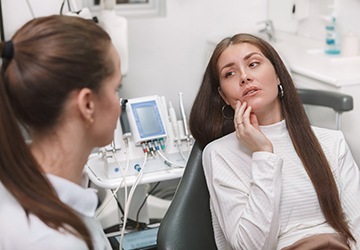 In the face of a dental emergency, it can be hard to think on your toes and make quick, smart decisions to help preserve your smile. Fortunately, our team at Dental Excellence Melbourne has your family's back. We offer same-day emergency appointments for patients of all ages who are in pain. We'll quickly tend to your discomfort and, upon conducting an emergency examination, we'll develop an in-depth treatment plan to get your oral health back on the right track. Call our office today for assistance.
Why Choose Dental Excellence Melbourne for Emergency Dentistry?
Same-Day Appointments Available
We See Patients of All Ages
In-House Dental Savings Plan Offered
How We Treat Dental Emergencies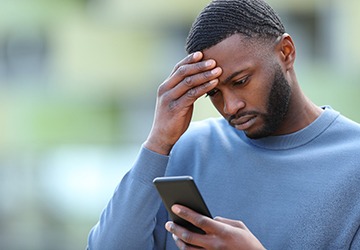 Call Our Office: The first step you should always take if you find yourself in the midst of a dental emergency in Melbourne is to call our office so we can schedule an appointment for you as soon as possible.
Follow First Aid Guidance: While you have us on the phone, we'll ask about your situation and symptoms and provide relevant first aid guidance to help ease your pain and reduce the risk of sustaining additional damage.
Emergency Exam: When you arrive at our office, we'll take necessary diagnostic imaging with our digital X-ray system, intraoral camera, or cone beam CT scanner, to diagnose the issue at-hand and create a treatment plan.
Treatment Plan: Once we make a diagnosis, we'll design a personalized treatment plan to address the problem and walk you through each aspect of it, as well as answer any questions you may have.
Move Forward with Treatment: When you decide to move forward with your treatment plan, we'll work quickly to get you out of pain and make sure your smile is better off than when you entered our office!
The Most Common Dental Emergencies
We see dental emergencies of all severities and types, including some of those that you see below. Our rule-of-thumb is that if you're in pain, anxious about whether or not your situation could be an emergency or would just like to double-check with a member from our team to see if you require urgent care, give us a call.
Understanding the Cost of Dental Emergencies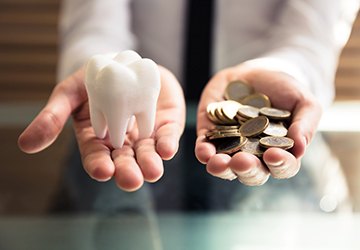 There's no singular price tag associated with dental emergencies because the cost of your visit will depend on a variety of different factors, like what treatment you require. As our team's going over your treatment plan with you, we'll provide you with a detailed cost estimate so you know what to expect financially before committing to moving forward with it. Our team is proud to accept and maximize dental insurance as well as offer financing through CareCredit and an In-House Savings Plan to make paying for your appointment easier.
Keys to Preventing Dental Emergencies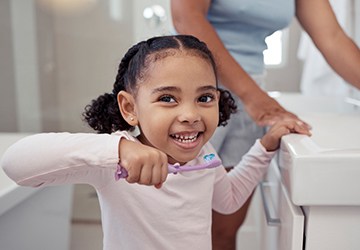 While there's no way to completely avoid experiencing a dental emergency, however, there are a few preventive measures you can take to reduce the chances you'll end up in your emergency dentist's treatment chair, including:
Brushing twice each day and flossing daily.
Visiting your dentist every six months for checkups and cleanings.
Quitting using tobacco products.
Not biting down on hard items, like ice, pens, etc.
Wearing a protective nightguard if you grind your teeth.
Wearing a protective mouthguard if you play contact sports.