Sedation Dentist Serving Melbourne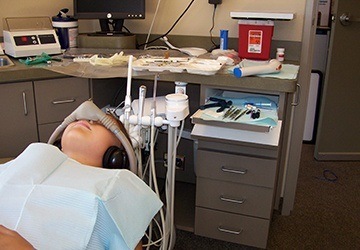 If the thought of visiting the dentist makes you nervous or anxious, you're not alone. We want you to know that our team is prepared to help you feel as relaxed and comfortable as possible throughout your time with us. We know a visit to Dental Excellence Melbourne can be enjoyable and downright rejuvenating — but you don't have to just take our word for it. Visit our dental office and choose from any of our sedation options to sit back and relax your way to excellent dental health. Are you interested in learning more about sedation dentistry in Melbourne? We invite you to get in touch with our dental office today.
Why Would I Need Dental Sedation?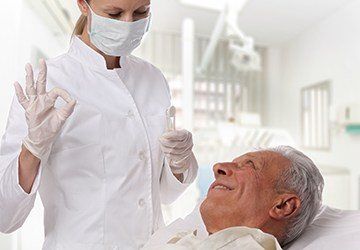 At Dental Excellence Melbourne, our skilled dental professionals work hard to help patients feel comfortable throughout their time in the dental office. With gentle, attentive care and the latest technologies, the dentistry services we provide help patients to feel comfortable during any treatment, but we understand that even the most patient-centered dentistry services can't keep every patient calm. Some of the reasons patients opt to receive dental sedation include:
Severe dental phobia or anxiety that makes even the most basic dentistry services unsafe or uncomfortable
Those who are too young or otherwise cannot understand their dental treatments placing them in danger
Those with sensitive teeth, gums, or gag reflexes
Those who want to complete numerous or advanced treatments in fewer visits
Oral Conscious Sedation Dentistry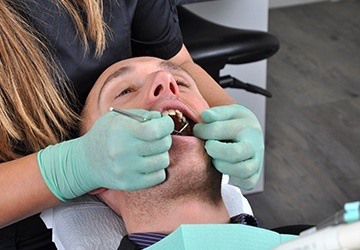 Oral conscious sedation is a form of dental sedative that is best for dentistry patients who experience mild to moderate anxiety and those who are undergoing longer treatments in a single appointment. Oral conscious sedation is administered with a prescription sedative pill you take orally about an hour before your appointment. By the time you are settling into the dental exam chair, the effects will have taken over, and you can relax completely removed from the sights, sounds, and smells of what is going on around you. Because you're already relaxed before you leave home, oral conscious sedation is a great option for patients whose anxiety makes it difficult for them to leave home to visit our dental office. The effects of oral conscious sedation are long lasting, so patients will need to have a trusted friend or family member drive them to and from their appointment and monitor them throughout their recovery. Following your visit, you will not likely remember much of your time with us. Most patients consider this sedative-induced amnesia to be one of the benefits of oral conscious sedation, but if you do feel concerned, it's important to understand that this is a completely normal response and nothing to worry about.
Nitrous Oxide Dental Sedation
Nitrous oxide sedation, also known as "laughing gas," is an appropriate sedative method for patients of all ages undergoing any type of dentistry treatment. This is the mildest form of sedation, and it earned the named laughing gas thanks to the decrease in pain sensation and increase in euphoric feelings it creates in patients. A nitrogen and oxygen mixture is inhaled through a small nasal mask that you wear throughout the procedure, helping you to feel relaxed and at ease. Its effects take over quickly and also wear off almost as soon as the mask is removed. That means we can continually adjust the dosage of your sedative to ensure you remain completely comfortable during your time in our dental office, and you can still go right back to your daily routine once you leave the dental office. Nitrous oxide is a safe, effective sedative solution for almost any patient.
IV Sedation Dentistry
IV sedation is reserved for patients who experience more significant anxiety or fear in the lead up to their dental appointments, and those who are undergoing more complex procedures like dental implant placement. The sedative medication is administered directly into a vein in the crook of the arm or the back of the hand, and it can be easily adjusted throughout your treatment to ensure comfort. Like oral conscious sedation, the effects of IV sedatives are long lasting. That means you will need to have a friend or family member drive you to and from the dental office and keep an eye on you until you're back to normal. Also, like oral conscious sedation, the effects of IV sedatives are long lasting, and they often lead to an inability to remember your time in our dental office.
General Anesthesia
General anesthesia is only recommended for patients who need to be put completely to sleep during their procedures due to the advanced or invasive nature of a procedure or very severe dental anxiety. This is typically a last recourse, and it is only recommended in extreme cases. When general anesthesia is necessary, we will perform the treatment in a hospital setting to ensure your safety.