July 20, 2020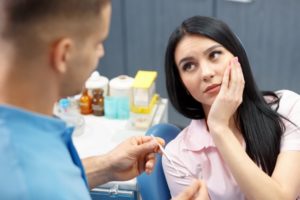 The last time you had a checkup with your dentist in Melbourne, you were told that you had a tiny cavity and that you should schedule a separate appointment to get it taken care of. You told yourself you would get around to it, but eventually you forgot. Pretty soon, another checkup and cleaning has come and gone, and you still haven't received a filling for that cavity. It might not seem like a big deal, especially if the cavity isn't noticeable or doesn't cause pain. However, not getting a cavity filled in a timely manner can spell disaster for your oral health. Keep reading to learn three reasons why you should never put off getting a filling you need.
The Cavity Will Get Bigger
While many general health problems, such as the common cold, resolve on their own, dental health issues like cavities typically worsen the longer you avoid treatment. By putting off that filling you need, the decay will continue to spread through your tooth, eroding your enamel. It could even reach the inner portion of your tooth, where the nerve is located, resulting in the mother of all toothaches.
You Might Forget About It
Cavities usually don't hurt until they reach the point of causing a toothache terrible enough to warrant emergency care. If you forget to schedule an appointment to get your cavity filled, you might not remember you even have a cavity until a sudden tooth pain renders you unable to eat, sleep, or live your daily life without extreme discomfort. Do your future self a favor by booking an appointment for a filling right after you find out about your cavity.
Putting Off Treatment Costs More Time and Money Later
Waiting to treat your cavity will only result in more expensive and time-consuming treatment down the road. Your cavity may damage your tooth so badly that you need a dental crown, a root canal, or even an extraction to preserve your oral health. All of these procedures take more time and cost significantly more than a filling. Investing in your dental health now will pay off massively in the future.
Although scheduling an appointment to get a cavity filled might not be the most exciting activity in the world, it's well worth it to make sure your smile stays healthy. If you need a filling you've been putting off, give your dentist a call today.
About the Author
Dr. Cedric C. Chenet is a dentist in Melbourne, FL who received his Doctor of Dental Surgery degree in 1982 from Howard University. He has pursued extensive post-graduate training in many areas of dentistry, including restorative dentistry and endodontics (root canals). He can place tooth-colored fillings so you can get your cavity repaired without drawing attention to it. To learn more about how Dr. Chenet can restore your smile, visit his website or call (321) 255-0199.
Comments Off

on 3 Reasons Why You Shouldn't Put Off Getting a Filling You Need
No Comments
No comments yet.
RSS feed for comments on this post.
Sorry, the comment form is closed at this time.