August 8, 2020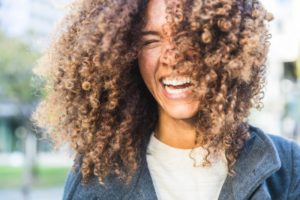 Did you know that 92% of adults between the ages of 20 and 64 have had at least one cavity? Unfortunately, the staggering statistics don't stop there. According to the National Health and Nutrition Exam Survey, 26% of the same age group have untreated tooth decay. So, it's not shocking to hear that cavities are one of the most rampant issues among Americans today. Decades prior, an amalgam filling would be the leading restorative option. However, advancements in dentistry allow patients today to opt for tooth-colored fillings that provide more than just aesthetic benefits! Read on for three additional advantages of this cavity repair solution.
#1. Psychological Benefits
Although durable, researchers found that the dark spots left behind after treatment directly impacted patients' behavior. Not only did the noticeability of the metal fillings lead to patients smiling less, but it also negatively affected their self-esteem! Fortunately, tooth-colored fillings offer patients with virtually undetectable treatment that is equally as effective.
#2. Tooth-Colored Fillings Don't Contain Mercury
According to the American Dental Association, the small amount of Mercury found in metal fillings is considered safe to use. However, many patients are understandably concerned over the potential of ingesting this chemical throughout their lifetime. Therefore, many dentists suggest tooth-colored fillings that benefit your aesthetic and overall health.
#3. Tooth-Colored Fillings Adhere Better
Although treating a cavity is pain-free thanks to advancements in technology and dentistry, the last thing you want is to make multiple trips back to your dentist's office to have your filling replaced. Fortunately, since tooth-colored fillings adhere directly to the surface of your teeth, it decreases the likelihood of needing to come back for additional visits. Plus, that means less of your tooth needs to be removed in the process!
#4. Decreased Tooth Sensitivity
Have you ever taken a sip of your morning coffee or bit into your ice cream only to feel a surge of discomfort stemming from your teeth? By design, the nerve of your tooth is surrounded by layers to protect you from experiencing tooth sensitivity. However, metal conducts heat well and can expose the extreme temperatures to the inner layers of your tooth. However, tooth-colored fillings don't have the same issue!
If you need to have a cavity treated, talk to your dentist about tooth-colored fillings! That way, you can restore your smile attractively while simultaneously benefiting from their durability and increased lifespan!
About the Practice
After completing his undergraduate degree from Averett College in Virginia, Dr. Cedric C. Chenet attended the reputable Howard University for his doctorate in 1982. From there, Dr. Chenet served with the U.S. Air Force before building a dental practice where the latest technology and high-quality care come together for one truly exceptional experience. If you would like to speak with him about improving your smile and oral health with tooth-colored dental fillings, visit his website or give him a call at 321-255-0199.
Comments Off

on 3 Reasons to Choose a Tooth-Colored Filling Over an Amalgam One
No Comments
No comments yet.
RSS feed for comments on this post.
Sorry, the comment form is closed at this time.