August 3, 2020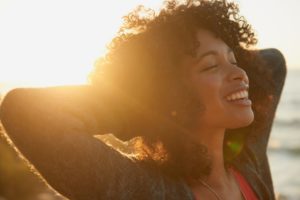 You've been ready for this beach vacation for months now. You've picked out the perfect swimsuit, the hotel room is booked, and you've bought the perfect novel to read on the beach. The only problem is that you're self-conscious about the way your smile will look in the pictures your family is inevitably going to take of you. Your front teeth are chipped and stained, and you don't want those imperfections preserved in photographs. Fortunately, there's an easy way to conceal these flaws just in time for your vacation – porcelain veneers. Keep reading to learn what veneers are and how they can give you the perfect beach-ready smile.
What Are Porcelain Veneers?
Veneers are thin porcelain shells that are created to fit over the front surface of your teeth. They can mask virtually all cosmetic flaws your smile may have, making them like little "masks" for your teeth. Each veneer is designed using impressions that your dentist takes of your smile. Because of this, they can be made to match the exact size, shape, and color of your surrounding pearly whites. Once your veneers have been placed, onlookers shouldn't be able to notice they're not your "natural" teeth. All they'll see is your beautiful grin!
Are You a Good Candidate for Porcelain Veneers?
A major advantage of porcelain veneers is their versatility. Because they cover the entire front portion of a tooth, they can correct several imperfections in one fell swoop. Here are some of the ways they can benefit your smile:
Cover stubborn stains. Discoloration that can't be removed with professional teeth whitening may need to be concealed with veneers.
Close small gaps between teeth. Veneers can close these gaps in a couple of appointments vs several months of orthodontic treatment.
Make your smile more uniform. Teeth that are too long, short, stubby, or generally misshapen can stand out in your smile. Placing veneers allows all of your pearly whites to look the same.
Restore damaged teeth. If your front tooth has a chip or crack, you might not need a full dental crown to restore it. A veneer may be enough to correct the damage.
If your teeth suffer from any of the cosmetic flaws listed above, you might be a good candidate for veneers. Keep in mind that your mouth should be generally healthy and free from infections before veneers can be placed. You should also be committed to proper at-home oral hygiene and regular dental checkups and cleanings, as those can help you get the most out of your veneers by making them last.
Ultimately, the only person who can determine your eligibility for porcelain veneers is your dentist. Schedule a consultation with them today so you can have a beach-ready smile for your vacation!
About the Author
Dr. Cedric C. Chenet is a general and cosmetic dentist in Melbourne, FL who achieved his Doctor of Dental Surgery degree in 1982 from the prestigious Howard University. He served as a dental officer in the U.S. Air Force before opening his own practice. He offers traditional porcelain veneers as well as no-prep Lumineers to improve your smile this summer. To learn more, visit Dr. Chenet's website or call (321) 255-0199.
Comments Off

on How Porcelain Veneers Can Give You the Perfect Summertime Smile
No Comments
No comments yet.
RSS feed for comments on this post.
Sorry, the comment form is closed at this time.