November 7, 2020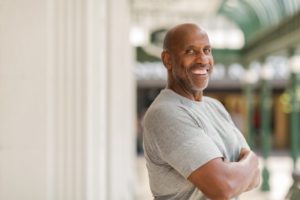 Are you frustrated with your dentures? While these classic restorations are a great way to quickly replace your missing teeth, many patients find them difficult, inconvenient, and uncomfortable to use after a few years. Thankfully, dentures aren't your only tooth replacement option anymore! With dental implants in Melbourne, you can anchor your denture into place and enjoy a wide range of benefits for your health and quality of life! Read on to learn more about a few of the important benefits of implant-retained dentures.
Downsides of Dentures
Dentures are a popular choice for tooth replacement because of their ease and speed of treatment, as well as their affordable cost. However, they are not without drawbacks like:
Unstable fit: Perhaps one of the most well-known disadvantages of dentures is their tendency to slip or pop out of place at the most inconvenient times. This happens more often as the jawbone changes shape after tooth loss, causing the denture to lose their close fit.
Increased risk of oral health issues: Poorly fitting dentures can irritate the gums, causing sores and infections. Plaque and bacteria can also become trapped between the base and the gum ridge, increasing the risk of serious oral health conditions like gum disease.
Need to be replaced: A set of dentures will typically need to be replaced after 10 years of use. Not only is this inconvenient, but it can become quite costly over time.
How Dental Implants Work with Dentures
Dental implants are small, titanium posts that can be surgically placed directly into the jawbone. Over the course of several months, these posts undergo a process called osseointegration and fuse with the surrounding bone tissue. Implant posts mimic the roots of the missing teeth, and their unique placement provides an incredibly reliable foundation for the restoration they support.
The number of implant posts needed will depend on the extent of your tooth loss and the condition of your jawbone. Typically, anywhere from four to eight dental implants can be used to anchor a denture in place. Once fully healed, you can enjoy a comfortable, reliable, and convenient smile!
Improving Your Smile with an Implant-Retained Denture
Because implant-retained dentures rely on implant posts in the jawbone for support instead of resting on top of the gums, they offer a wide range of advantages, including:
Comfortable, reliable fit: As long as you protect your dental implants, your implant-retained dentures should never feel loose, uncomfortable, or like they're about to pop out of place.
Vastly improved biting power: Implant-retained dentures can restore 80-90% of your natural biting force, allowing you to comfortably enjoy all your favorite foods easily.
Potential to last a lifetime: Dental implants have a 10-year success rate of over 90%, and most patients can easily expect to keep their implant-retained dentures in place for life.
Maintain healthy smile and jawbone: The dental implant posts encourage circulation in the jawbone, which prevents deterioration and maintains your youthful appearance.
Are you tired of your dentures in Melbourne? Talk to your dentist to see if an implant-retained denture is right for you!
About the Author
Dr. Cedric Chenet of Dental Excellence Melbourne has over 35 years of experience helping patients achieve the happy, healthy, and confident smiles they deserve. While he and his team always do their best to keep their patients' teeth in place for life, they also offer several tooth replacement options like dentures and dental implants. To see if an implant-retained denture is right for you, feel free to contact Dr. Chenet via his website or at (321) 255-0199.
Comments Off

on How Dental Implants Can Make Your Dentures Better
No Comments
No comments yet.
RSS feed for comments on this post.
Sorry, the comment form is closed at this time.