December 18, 2020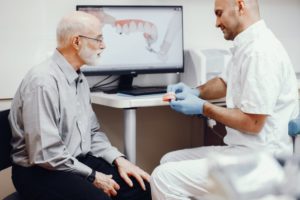 Do you currently rely on a full denture? Whether you've had your denture for a long time or you're recently receiving it, you may be wondering if you even need to bother to continue dental checkups as often as you may have in the past. After all, what's the point if you don't have any remaining teeth? As it turns out, dental checkups with dentures are essential both for your oral and overall health. Here are four reasons why as explained by a dentist!
Keeping Your Oral Health In Order
While you may not have any natural teeth to worry about when using a full denture, that doesn't mean issues can't still develop over time that put your oral health at risk. In fact, one of the most common problems denture-wearers experience is gum disease, an infection of the oral tissue that your denture rests on throughout the day.
On top of that, your denture can slowly develop plaque buildup. Left unremoved, this material can easily turn into tartar, which is a calcified form of plaque that can only be removed properly by a dental professional. Needless to say, there are few things more satisfying than leaving the dental office with a sparkling clean denture!
Preventing Other Underlying Diseases
Gum disease is quite common, but there are other conditions your dentist wants to catch as early as possible as well. This includes oral cancer, a potentially deadly disease that's diagnosed in about 50,000 Americans every year. On top of that, some evidence indicates that those using dentures are at slightly higher risk if developing oral cancer compared to those who don't. Furthermore, this risk appears to increase when the dentures do not fit properly.
Ensuring Your Denture Fits Properly
Because dentures only sit on top of the gums (and therefore do not stimulate bone tissue), your jaw and soft tissue will begin to change shape over time. This causes the denture to become ill-fitting after enough years of use. During a routine checkup, a dentist can confirm if your denture is still fitting as intended, ensuring that you can speak, smile, and maintain a healthy diet with confidence. The last thing you want is for your nutrition to suffer because your denture becomes uncomfortable to use.
Extending the Life of Your Prosthetic
When a denture is properly taken care of, it can last much longer on average. For example, with proper care, a full denture can last for as long as 10 years! With that said, dentures will likely need adjustments every several months or so, making checkups a necessary part of your oral care routine.
A denture can make your life easier and possible to smile again. However, you'll need to take care of it as much as it takes care of you first! Set up your next appointment with a dentist today to maintain the longevity of your denture.
About Dental Excellence Melbourne
When you visit the dentists of Dental Excellence Melbourne, you can expect a team of professionals who are trained to provide not only dedicated restorations and prosthetics, but make sure your denture lasts for as long as possible through regular maintenance. Dr. Cedric Chenet, Dr. Derek Chenet, and Dr. Veronica Yu all share many years of experience in the dental field, including around prosthetics. To schedule an appointment with their office, you can contact them through their website.
Comments Off

on 4 Reasons Why Dental Checkups with Dentures are Necessary
No Comments
No comments yet.
RSS feed for comments on this post.
Sorry, the comment form is closed at this time.