May 11, 2021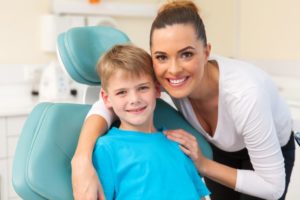 As a parent, you do your best to provide your child with the healthiest future possible. Part of that involves making sure his-her orthodontic wellness is up to standard. Braces for children provide a way to correct bite problems early so your child can enjoy an attractive and functional set of teeth. What are the signs that braces are needed, though? Continue reading to find out.
Signs Your Child Needs Braces
There are several reasons that your child may need braces. Thus, it's important to be able to recognize the early warning signs. Here's what you should be on the lookout for:
Teeth are crooked – One of the more typical reasons parents visit a dentist, crookedness is often caused by the permanent teeth growing in around the baby teeth that haven't fallen out yet.
Mouth or jaw pain – Often, if a child is experiencing mouth or jaw pain, there is an underlying orthodontic problem that should be examined by a dentist.
Problems with speech – Misaligned teeth can make it harder to speak normally. Pay attention to any words that are difficult for your child to pronounce.
Trouble chewing or biting – When teeth are misaligned, it makes it harder to bite and chew food. You may even notice your child biting his-her tongue or insides of the cheeks.
Too much space between teeth – Optimally, teeth should maintain a healthy distance between them. Spacing issues that aren't addressed early can lead to further problems in the future.
Bottom teeth overlap the top teeth – Referred to as an underbite, the issue is corrected by the dentist using braces to align the jaw and teeth.
Teeth don't meet on either side – When your child closes his-her mouth, teeth that don't line up when the mouth is closed are considered to be crossbite. This can cause uneven tooth wear.
Top teeth overlap the bottom teeth – While it's normal for the upper teeth to slightly overlap those on the bottom, it can become problematic if the lower teeth can't be seen when your child bites down.
Top teeth protrude out over the bottom teeth – Upper teeth that jet out significantly past the bottom teeth are considered to be overjet and can leave your child more susceptible to injury.
If Your Child Meets any of the Above Criteria, What's Next?
To prevent any guessing, it's best to reach out to a local dentist as soon as possible. Why? Because the sooner you have your little one examined and determine what is necessary to ensure a healthy and functional bite, you can move forward with getting the teeth straightening process started.
As your child matures and becomes an active teenager who is more self-conscious, your early efforts for bite correction will be greatly appreciated!
About the Author
Dr. Cedric C. Chenet earned his dental degree from Howard University. Over 30 years later, he is still helping patients enjoy the absolute best in oral health. A well-rounded professional, Dr. Chenet offers orthodontic care for patients of all ages at Dental Excellence Melbourne, and he can be reached for more information or to schedule a visit through his website.
Comments Off

on If You Notice This, Your Child Probably Needs Braces
No Comments
No comments yet.
RSS feed for comments on this post.
Sorry, the comment form is closed at this time.