October 9, 2021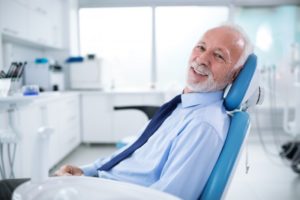 Known as the most superior form of tooth replacement, dental implants offer greater advantages and benefits than traditional prosthetics. If you are eager to replace your missing teeth with these permanent implant posts, you can prepare to join the millions of people who are already living with and enjoying life with a longer-lasting smile. But are you fully aware of the cost associated with dental implants? Are you prepared to pay for your upcoming treatment? Find out if your dental insurance plan offers coverage for these prosthetics and how you can use these three ways to maximize your benefits before they expire.
Use Your Benefits to Cover Portions of Your Treatment
It is not uncommon for most dental insurance companies to consider dental implants a cosmetic service, not a restorative one. As a result, they may not agree to cover the cost of your implant surgery. However, there are aspects of your treatment they might offer to pay, such as any preliminary surgeries or your customized restoration. Bone grafting, periodontal therapy, and tooth extraction are normal recommendations should you show signs of gum disease, serious tooth decay, or jawbone deterioration. If your dentist suggests you undergo one or more of these procedures, do not delay.
Don't Wait to Start Treatment
Although it is nearing the end of 2021, you still have time to start the process of dental implant placement. If you check with your dental insurance company and they agree to cover even a portion of your treatment, it's best to go ahead and get started now instead of waiting until 2022. Why? Because the truth is that most dental plans are good for one calendar year. This means at midnight on December 31, your benefits expire and do not rollover. As a result, your deductible resets to $0, so you must meet it before your insurance company will agree to pay for more of the services you receive. Also, any unused funds provided to you by your insurer will be returned, causing you to lose thousands of dollars that are rightfully yours.
Don't watch your hard-earned money go back into the hands of your insurance company, take advantage of using it to your advantage now.
Find Out if Your Dental Implants Will Be Covered By Medical Insurance
While there are stark differences between dental and health insurance, it's worth checking to see if you can receive medical coverage for this type of tooth replacement procedure. While the conditions are few, you may be eligible if you are missing your teeth due to serious trauma, a medical condition, you are undergoing treatment for a tumor, or you have congenitally missing teeth. Not all policies have the same stipulations, so you will need to carefully review your plan to determine if you'll receive possible coverage.
Even if your insurance carrier agrees to cover a portion of your care, you can always inquire about additional payment options (i.e., flexible financing, in-house membership plan) to help you stay within your budget.
About the Author
Dr. Cedric C. Chenet earned his Doctor of Dental Surgery degree from Howard University. Dr. Chenet retired from the U.S. Air Force as a lieutenant colonel in 2002. During his time in the service, he received extensive post-graduate training in general dentistry, periodontics, endodontics, prosthodontics, and pediatric dentistry. Using the latest technology in his practice, he and his team are capable of restoring smiles with the help of dental implants. If you or a loved one are missing one or more teeth and need professional treatment, contact us via our website or by calling (321) 255-0199.
Comments Off

on 3 Ways to Use Your Insurance Benefits Toward Dental Implants This Year
No Comments
No comments yet.
RSS feed for comments on this post.
Sorry, the comment form is closed at this time.