November 7, 2021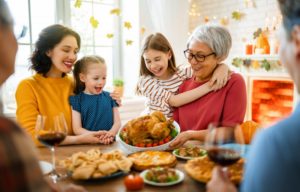 For most Americans, the holiday season truly is the most wonderful time of the year. But if you're struggling with tooth loss, it may be hard for you to enjoy the holidays to the fullest, as smiling and eating certain foods can feel next to impossible. If an incomplete smile or an unreliable denture is making you dread Thanksgiving, consider dental implants. Often considered the gold standard of tooth replacement, dental implants look, feel, and function just like natural teeth. Here are three things dental implants allow you to do that can improve your Thanksgiving!
Smile Confidently
No matter how large your Thanksgiving gathering is, chances are you'll be seeing people you haven't seen in a while. If tooth loss makes you hesitant to grin when the other person goes in for a hug, you may come across as stand-offish. Not to mention, people will undoubtedly want to preserve the moment by taking pictures. Luckily, dental implants fill the gaps in your smile with a stable, lifelike solution. You should feel perfectly comfortable flashing those pearly whites for a photo!
Speak Clearly
Missing even one front tooth could give you a lisp or difficulties pronouncing certain words, and dentures sometimes slide out of place or create whistling or clicking noises when you try to talk. Fortunately, dental implants are embedded in your jawbone, so they stay firmly in place at all times while also closing the empty spaces in your mouth. They make speech just as effortless as it was before you lost any of your teeth.
Enjoy Your Favorite Holiday Foods
It's no secret that after tooth loss, eating isn't as easy as it once was. Even if you replace your missing teeth with a dental bridge or denture, you won't have the biting strength you used to have. Traditional prosthetics merely sit on top of the gums, but dental implants take it one step further. Because they replace the roots of your teeth, dental implants restore almost all of your chewing force. Eating with dental implants should be a snap!
Let's face it: Thanksgiving just wouldn't be the same without spending time with loved ones and eating copious amounts of food. If you're having a hard time with both of those because of missing teeth, then it's time to ask your dentist if dental implants are right for you. That way, next year's Thanksgiving could be the best one yet!
About the Practice
At Dental Excellence Melbourne, you'll find three excellent dentists who are prepared to meet the dental needs of your entire family under one roof. Due to their advanced training and experience, they can complete every step of the dental implant process in-house instead of having to refer you to various specialists. To get started on the process of rebuilding your smile with dental implants in Melbourne, FL, contact their team by calling 321-255-0199.
Comments Off

on How Dental Implants Can Give You a Better Thanksgiving
No Comments
No comments yet.
RSS feed for comments on this post.
Sorry, the comment form is closed at this time.