December 14, 2021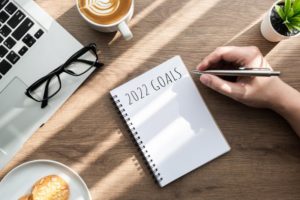 We've officially made it to December! The holiday season is in full swing, and the end of the year is approaching rather quickly. Do you know what that means? 2022 will be here before you know it! It's time to start working on your list of New Year's resolutions. If you're like most, you'll probably make yours revolve around increasing your health and wealth. Well, choosing to make your resolutions around your oral care will create a win-win situation for both your oral health and financial situation. Read on for some ideas that'll help you keep a healthy smile all year long!
Make Positive Changes
The new year is the perfect time to commit to making positive changes in your life! By improving your oral hygiene routine, staying away from harmful behaviors, and making better dietary choices, you'll be making a significant impact on your long-term dental health. Once you incorporate these changes into your life, they'll become habits before you know it. After some time, they'll even turn into permanent fixtures in your behavior and routine.
Establish a Good Oral Hygiene Routine
Practicing good oral hygiene is crucial to keep your smile as healthy as can be. Plus, it's easier than you may imagine it to be! A solid at-home dental care routine involves gently brushing your teeth at least twice a day for two minutes at a time. Make sure you use fluoride toothpaste to help strengthen your enamel. Don't forget to floss daily and rinse with an antiseptic mouthwash as well.
Stick to a Healthier Diet
Did you know that your diet has a significant impact on your oral health? The foods you eat can provide nourishment for the bacteria in your mouth, increasing your risk of dental problems like cavities, decay, and gum disease. To keep your pearly whites safe, make sure you limit your consumption of sugary or starchy foods, reduce snacking between meals, and eat plenty of nutrient-rich foods (i.e., fruits, vegetables, dairy products, lean proteins, and whole grains).
Avoid Dry Mouth
Believe it or not, your saliva plays a crucial role in maintaining the health of your mouth. It provides the enamel with minerals, neutralizes the pH level (or acidity), and helps wash away food particles and debris. As a result, a dry mouth can contribute to multiple oral health problems. Luckily, you can avoid dry mouth by chewing sugar-free gums, consuming milk or dairy products to stimulate saliva production, and drinking plenty of water.
Are you ready to improve your oral health? Make 2022 the year you accomplish that goal. By using the ideas above as the inspiration for your New Year's resolutions, you can ensure your smile remains happy and healthy all year long!
About the Practice
At Dental Excellence Melbourne, we strive to treat every patient that walks through our doors like a member of our very own family. Our team uses the latest technologies, techniques, and materials to ensure everyone receives the best treatment possible. For more ways to keep your smile healthy in 2022, visit our website or call (321) 255-0199.
Comments Off

on New Year's Resolutions for a Healthy Smile in 2022
No Comments
No comments yet.
RSS feed for comments on this post.
Sorry, the comment form is closed at this time.