July 4, 2022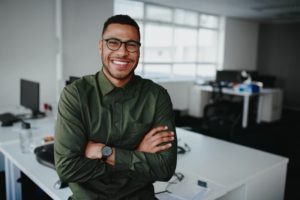 When you have a job interview coming up or a potential promotion on the line, it can be an exciting or anxious time because it can significantly impact your life. It makes sense you would be considering every possible thing to maximize your chances of success.  While having a positive attitude is important, you might be surprised to know how impactful a confident smile can be. Read on to learn from your dentist in Melbourne some ways cosmetic dental treatments can boost your career opportunities!
Enhanced Job Performance
Not only do cosmetic treatments improve your dental appearance, but they allow you to have peace of mind about your teeth. By positively impacting your mental health, you'll be able to perform tasks better and more confidently in the future.
Eating Gets Easier
Along with whitening treatment, some cosmetic dental work such as veneers or dental bonding can also fix minor imperfections like chipped, misshapen, or even misaligned teeth. This can make it easier to maintain a balanced diet and avoid dental issues later on because your teeth are suited to eat a wider array of foods. With improved nutritional intake, you are more likely to feel better.
Elevated Sense of Happiness
Smiling is an essential part of your quality of life which can spread to other aspects like social interactions and career opportunities. In addition to enhancing your smile, cosmetic dentistry can make you feel more youthful, attractive, and happy!
Make Better First Impressions
According to a survey by Kelton Global for the American Academy of Cosmetic Dentists, about 48 percent of adults believe a smile is the most memorable feature when meeting a person. So, if you want to make a great first impression, brightening your grin with cosmetic dental work can help significantly. You'll be more likely to appear outgoing, confident, competent, and inviting to others around you.
Enjoy a Self-Esteem Boost
One of the biggest characteristics of a leader is confidence. With brighter and healthier teeth, you'll look and feel your best which can make you magnetic to other people. You also won't feel the need to hide your smile, so you can feel comfortable focusing on what you're saying and not how you're saying it!
With the numerous benefits of cosmetic dental treatments, you put yourself in a great position to boost your career, social, and personal success. Talk with your cosmetic dentist in Melbourne if you're interested in enhancing your pearly whites, and they'll be happy to discuss your options!
About the Author
Dr. Cedric Chenet earned his dental doctorate from Howard University and then served as a dental officer in the U.S. Air Force. Shortly after honorably retiring as a lieutenant colonel, he opened his private practice in Melbourne. If you are interested in cosmetic dentistry, he offers porcelain veneers, Lumineers, metal-free crowns and bridges, dental bonding, or teeth whitening. Schedule a consultation on his website or call (321) 255-0199.
Comments Off

on Can Cosmetic Dental Treatments Help Your Career?
No Comments
No comments yet.
RSS feed for comments on this post.
Sorry, the comment form is closed at this time.