August 23, 2022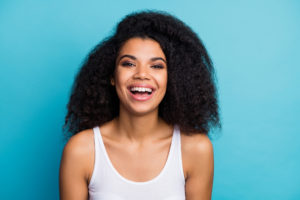 There are several different cosmetic dental treatments out there that all offer solutions to different imperfections, like discolored teeth, malocclusion, crowded and gapped teeth, and even dental decay and damage. Each of these procedures uses different materials to patch up your smile, meaning the results all have different lifespans—especially depending on how you care for your teeth after treatment. Read on to learn how long cosmetic dentistry lasts and how you can extend the lifespan of your restored smile.
How Long Do Results Last?
The length of your cosmetic treatment results will depend on several factors, like the durability of the materials used and how well you care for your smile.
Porcelain Veneers
Porcelain veneers are thin sheaths that are crafted from durable and stain-resistant dental porcelain, allowing them to maintain their appearance for years to come with good oral hygiene. With the right care, veneers can last for up to 20 years.
Lumineers
Lumineers are thinner than traditional veneers, making them not as durable. Because of this, your natural enamel doesn't have to be altered for this treatment. They typically don't last as long as traditional veneers, but many patients are still able to enjoy them for up to a decade.
Metal-Free Restorations
Metal-free restorations like porcelain and ceramic crowns are typically placed on the visible surface of back molars that's located above the gumline. Because of their placement, these restorations endure a lot of wear-and-tear due to chewing food. They're also harder to reach when you brush and floss. Fortunately, the durable materials used allow metal-free crowns to last up to 20 years with good maintenance.
Dental Bonding
Dental bonding is the process of composite resin being used to restore damaged teeth, tackle discoloration, or even close gaps between teeth. The material is sculpted and texturized to look identical to natural tooth enamel, and with regular maintenance, results can last for about five years.
Teeth Whitening
If you're receiving in-office treatments or using a take-home professional teeth whitening kit, you'll be able to enjoy a brighter smile for much longer than over-the-counter products because the ingredients used are more concentrated. Typically, teeth whitening results from professional treatment can last up to a year.
How Can You Make Your Cosmetic Results Last Longer?
The key to getting the most out of your cosmetic dental treatment is taking care of your smile. You can do this by brushing twice a day to remove plaque and bacteria, flossing at least once a day, and rinsing your mouth with non-alcoholic mouthwash daily. It's also important to visit your dentist bi-annually for checkups and cleanings to prevent tartar accumulation and to make sure that your treatment is still intact.
About the Author
Dr. Cedric Chenet received his Doctor of Dental Surgery in 1982 at Howard University. He is proud to have served in the US Air Force and is dedicated to his craft. He has completed extensive post-graduate training in a variety of dental specialties, including prosthodontics and proudly uses the latest technology at his practice, like the CEREC system that allows him to craft porcelain dental crowns in a single visit. For questions or to schedule a consultation for cosmetic dentistry, visit Dental Excellence Melbourne's website or call 321-255-0199.
Comments Off

on How Long Does Cosmetic Dentistry Last?
No Comments
No comments yet.
RSS feed for comments on this post.
Sorry, the comment form is closed at this time.