May 9, 2020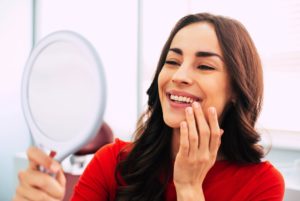 According to epidemiological studies, it's estimated that approximately 178 million Americans are missing at least one tooth. If you're one of them and looking for a solution for your smile, there are many factors to consider. You want to choose an option that will make you feel confident with a natural looking smile for as long as possible. In that case, dental implants could be the answer! However, this begs the question: How long do dental implants last? Read on to learn about the longevity of implants and give you some tips to keep them healthy and functioning as long as possible.
How Long Do Dental Implants Last?
Ultimately, with proper care, your implants can have a lifespan of up to 25 years. However, this is dependent on certain factors. The longevity of dental implants depends on:
How well you take care of them. If you are brushing, flossing, and visiting your dentist twice a year, they are bound to last.
If you avoid opening things with your teeth and biting down on hard items, like pens.
The skills of your dentist. Your dentist should know exactly where to place the implant and be able to evaluate how well your jawbone is fusing with it.
Your overall lifestyle and health. The healthier you are, the healthier your implants will be.
Dental implants last much longer than their alternatives, like bridges and dentures, which only last between 5 – 15 years. Implants are a better permanent solution because they do not undergo the same problems as more temporary fixes.
How Can I Keep My Dental Implants Healthy and Long-Lasting?
There are several things you can do to increase the lifetime of your dental implants. Here are just a few:
Brush Your Teeth: By cleaning your teeth twice a day using a soft-bristle toothbrush, you are keeping them in optimal condition which will increase their overall life. There are special toothbrushes available for people with dental implants. They are designed to reach more areas, like underneath the crown, to keep the replacements clean.
Floss Daily: By flossing at least once a day, you are removing trapped food particles between the teeth.
Low-abrasive toothpaste: Use a toothpaste that lacks abrasive ingredients like baking soda and other stain removing agents. These ingredients can wear down the implant. Look for a toothpaste that is made specifically for dental implants.
Avoid Smoking: Smoking can delay the healing process and weaken the bone structure of the jaw. Having a healthy jawbone is essential to maintain healthy implants.
The bottom line is that to make your dental implants last longer, you need to take care of them like real teeth. With the proper care, you will have a beautiful smile that lasts for many years to come!
About the Practice
At Dental Excellence Melbourne,  Dr. Cedric C. Chenet, Dr. Derek Chenet, and Dr. Veronica Yu believe that their patients should have a smile they are proud of and confident to show off. This is why they provide dental implants which give a long-term solution for patients with missing teeth. For more information on dental implants and how to care for them, visit their website or call (321) 255-0199.
Comments Off

on How Long Do Dental Implants Last?
No Comments
No comments yet.
RSS feed for comments on this post.
Sorry, the comment form is closed at this time.