TMJ Therapy – Melbourne, FL
Stop Chronic Jaw Paint with Personalized Treatment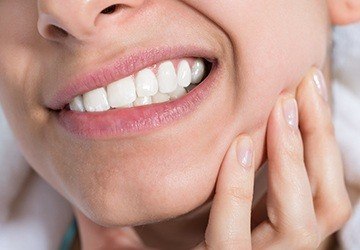 TMJ stands for temporomandibular joint, and these are the fragile bones that attach the lower jaw (mandible) to the upper jaw (maxilla). Many people have a TMJ disorder caused by malocclusion (a misaligned bite) or because they grind or clench their teeth at night. Unfortunately, because this habit usually takes place during sleep, most sufferers have no control over what is causing their condition and don't even realize that they are doing it. An attentive dentist will recognize the indicators during a preventive dentistry appointment, but if you are suffering from the symptoms (listed below), don't hesitate to call us to set up a visit. We will ensure that you will be on your way to feeling better than ever!
Common Symptoms of a TMJ Disorder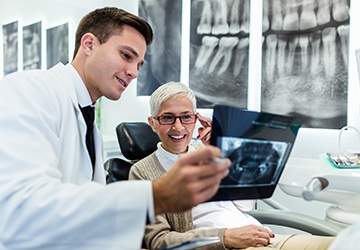 While there are many symptoms of TMJ disorder to consider, getting to know the ones you are definitely experiencing will make both creating a diagnosis and building a treatment plan much easier. If you notice any of the following symptoms, please make sure to let us know during your visit.
Headaches
Jaw Pain
Clicking or Popping in the Jaw
Cracked or Broken Teeth
Neck and Shoulder Pain
Ringing in the Ears
Our team can expertly determine if you have TMJ-related problems. We can then use a variety of TMJ treatments to efficiently meet your needs. These treatments can be read about in more detail below.
Treatments for Issues Related to the TMJ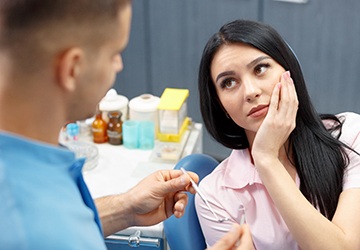 If we determine that your discomfort stems from an issue with your temporomandibular joints, we'll provide you with the most effective solutions available to end your discomfort and relieve stress. This is typically done with either a custom-made oral appliance or occlusal adjustments to your existing teeth and/or restorations.
Oral appliances designed to treat TMJ-related symptoms are customized to fit your mouth exactly and reposition the jaw in a way that does not cause disproportionate stress to the jaw joints. These appliances are typically worn during sleep where habits like grinding and clenching are most likely to occur. Using our digital impression technology, we can design an appliance that both relieves discomfort and feels as comfortable as possible when worn.
Alternatively, TMJ disorder can develop if existing teeth or restorations placed by a previous dentist make the bite uneven. This can cause chronic pain when moving the jaw, typically when chewing, speaking, or yawning. If your bite is uneven, we can make minor adjustments to your teeth/restorations to ensure even occlusion (bite) and stop future TMJ-related symptoms, such as discomfort, clicking or popping of the jaw, headaches, earaches and chronic pain in other areas of the body.
Call Our Office to Set Up an Appointment!
To effectively protect yourself from further damage, and to obtain TMJ therapy, please call our dental office. We happily accept patients from Melbourne, Palm Bay, Viera, Satellite Beach, Indialantic, Indian Harbour Beach, Melbourne Beach and other nearby Florida cities.