TMJ Therapy in Melbourne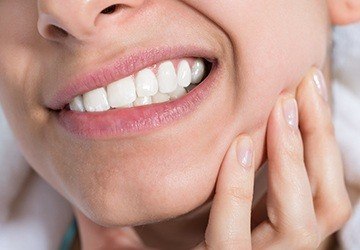 TMJ stands for temporomandibular joint, and these are the fragile bones that attach the lower jaw (mandible) to the upper jaw (maxilla). Many people have a TMJ disorder caused by malocclusion (a misaligned bite) or because they grind or clench their teeth at night. Unfortunately, because this habit usually takes place during sleep, most sufferers have no control over what is causing their condition and don't even realize that they are doing it. An attentive dentist will recognize the indicators during a preventive dentistry appointment, but if you are suffering from the symptoms (listed below), don't hesitate to call us for an appointment. We will ensure that you will be on your way to feeling better than ever!
Symptoms of a TMJ disorder can include:
Headaches
Jaw Pain
Clicking or Popping in the Jaw
Cracked or Broken Teeth
Neck and Shoulder Pain
Ringing in the Ears
Our team can expertly determine if you have TMJ-related problems. We can then use a variety of TMJ treatments to efficiently meet your needs. To effectively protect yourself from further damage, and to obtain TMJ therapy, please call our dental office. We happily accept patients from Melbourne, Palm Bay, Viera, Satellite Beach, Indialantic, Indian Harbour Beach, Melbourne Beach and other nearby Florida cities.