Sleep Apnea Therapy in Melbourne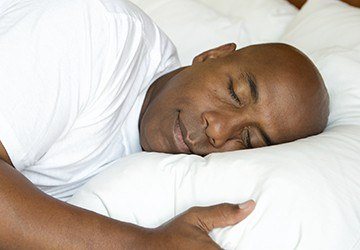 Millions of people throughout the United States suffer from poor sleep and the resulting fatigue and irritability. If your chronic exhaustion is accompanied by loud snoring and fractured sleep, you may be suffering from obstructive sleep apnea. This occurs when the tissues in the mouth and throat collapse and block the proper flow of air during sleep. The condition is most prevalent in older adults, but patients of all ages can suffer from it — and the risk is even greater for people who are overweight or obese.
The warning signs of sleep apnea include:
Chronic, disruptive snoring
Nighttime teeth grinding and jaw clenching
Frequent waking during the night (often observed by a partner)
Waking up with a dry mouth or sore throat
Daytime fatigue and irritability
Confusion or difficulty completing daytime tasks
Patients suffering from obstructive sleep apnea in or around Melbourne, FL can benefit from sleep apnea therapy from Dental Excellence Melbourne. As an expert in your teeth and oral structures, your dentist is uniquely qualified to provide treatment for obstructive sleep apnea.
The CPAP, or continuous positive airway pressure machine, is a common treatment method — but many patients do not have success with this treatment. A customized oral appliance can provide a wonderful alternative in these cases. Worn while you sleep, this small device repositions the jaw to prevent the airway's collapse — allowing you to breathe without interruption. Many patients find the relief they seek with this method.
If you are dealing with the exhausting effects of obstructive sleep apnea, please do not wait to get the relief you deserve. Everyone functions better when they can get a full night's rest — and we can help you do just that! We invite you to get in touch with your dentist in Melbourne, FL today. We welcome patients from all surrounding communities as well.