December 7, 2022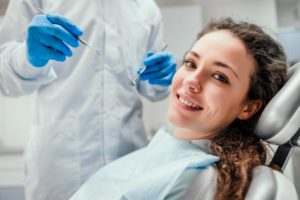 If you want to maintain a healthy and beautiful smile, visiting your dentist for checkups and cleanings is essential. Not only will they thoroughly polish your teeth, but they'll also monitor your health and address any developing issues they detect. That said, it may be challenging to know how to prepare for your next appointment if you haven't gone in a while or your living situation has changed. Read on to learn a few tips on how to make your future dental checkup as smooth as possible.
Have Your Insurance Information Ready
Before going to your appointment, make sure to ask your dentist if they accept your insurance policy. The last thing you want is to be surprised about having to pay a large bill completely out-of-pocket. To make the most of your benefits and save hundreds of dollars, bring your dental insurance information with you when you arrive so that you can provide the details they need to process you.
Write Down Your Medications
Your dentist will have to know about the kinds of medications you're taking before treating you. Be sure to write down their names, the required dosage, and the frequency at which you take them. Certain medications can raise your risk of oral health problems like gum disease and dry mouth. By knowing your medications, your dentist can treat you accordingly.
Confirm Your Appointment
Showing up to your dental visit on time is ideal for both you and your dentist. While their team will usually call you to confirm your appointment, you can always reach out to them if they don't. This will let you be certain about your scheduled time and receive any preliminary instructions if necessary.
Reschedule If You're Feeling Ill
You should reschedule your appointment instead of showing up to the dental office if you're feeling under the weather. You'll be able to rest while preventing your team from getting sick. Once you've recovered, you can safely return to receive the treatment you need.
Pick a Dentist You Trust
Try to do your diligent research when choosing a dentist, as you'll want to be cared for by someone you can trust. You should ideally pick a dental professional with good communication skills and a stress-free environment, which will provide a more pleasing experience. Feel free to read online reviews to learn from other patients' experiences so that you know what to expect.
Visiting your dentist doesn't have to be stressful. By keeping these few tips in mind, you can be sure to undergo a smoother dental checkup for maintaining a strong and healthy smile in the long run!
About the Author
Dr. Cedric C. Chenet earned his dental doctorate from Howard University and has been providing care for well over four decades. He also regularly pursues continuing education to expand his expertise and skills. He provides a wide variety of high-quality services, including checkups/cleanings, fillings, and oral cancer screenings. If you'd like to schedule an appointment, visit his website or call 321-255-0199.
Comments Off

on 5 Ways to Make Your Next Dental Checkup Easier
No Comments
No comments yet.
RSS feed for comments on this post.
Sorry, the comment form is closed at this time.